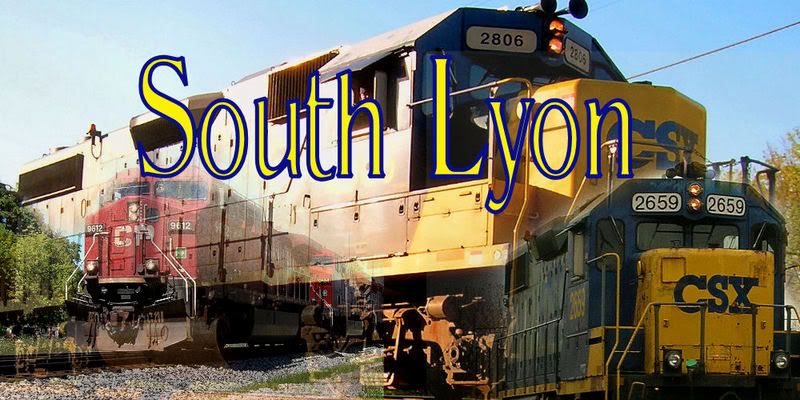 ---
Page Index
South Lyon is located at CH36.02 (Mile post 36.02) on the CSX Plymouth Sub. South Lyon is a small local community with around 10,000 people. South Lyon in its hey day had the GTW and the Pere Marquette crossing at a 45 with a Witches Hat Depot and a turn of the century mill (both still standing). Today in 2007 South Lyon is a 6750 foot Passing Siding, and a 700 foot team track.
South Lyon's Railroad Features
Huron Valley Rail Trail
GTW/PM Witches Hat Depot
CSX Plymouth Subdivison
Turn of the Century Mill
---
Click the Map Thumbnail to see a map of South Lyon.
---
Winter 2007 Photos
This has been my first major winter, where I have been able to see at least three trains per week compared to last year where I only saw about 3 trains every three weeks. With all the Western Coal, I have been seeing more coal trains with BNSF power, than I have seen General Merchandise! So I figured I'd post my BNSF power shots, after all BNSF is one of my favorite Paint schemes. The following dates and links will contain the different Western Coal trains that I have shot in South Lyon.
Western Coal
December 18th, 2006 N956-17 I chased N956-17 from 12 mile in Green Oak to Salem. Here are those pictures. The Train had BNSF 9359 an SD70ACe, and BNSF 8975 a SD70MAC as its power.

Here's N956-17 coming up to the Currie Road Crossing

Then down at 5 mile and Naiper, I caught them again across a soccer feild.

January 11th, 2007 N956-10 rolls by the East End of South Lyon

January 16th, 2007 E945-16 heads back west after an Ice Storm. I was tring to set my manual controls and messed up pretty bad.

February 11th, 2007 N956 chugs through the heart of South Lyon between Pontiac Trail and Reese Streets

---

All photos are copyright of Mike Tabone. This site is not affliated with any railroad or company mentioned on this site respectfully. Email any questions or comments to Webmaster@easternmr.com